B. B. B. B. D. '08 San Juan Puerto Rico to San Francisco, California
This year we went on a 14-day cruise (our first) aboard RCI's Serenade of the Seas departing from San Juan, Puerto Rico April 19, 2008 with ports at Casa De Campo, Dominican Republic; Cartagena, Columbia; Panama Canal transit; Puntarenas, Costa Rica; Huatulco, Mexico; Acapulco, Mexico; Cabo San Lucas, Baja
then arriving in San Francisco, California on May 03, 2008.
Here's the intinerary map courtesy of Royal Caribbean along with a picture of the ship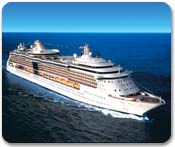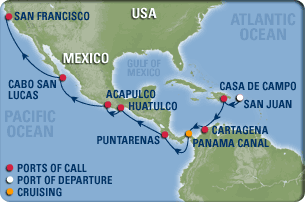 Our plan in Acapulco was to check out the cliff divers at Hotel Mirador and then hit Señor Frog's.

We caught a cab to the hotel and our driver agreed to wait for us to take us to Señor Frog's. You actuall view the cliff divers from the La Perla restaurant which is part of the Hotel Mirador. They make a little extra money that way I guess. But we did get some tapa's and drinks too. The divers actually climb up the side of the rock to the "platforms" (although we did see one sneak in from above). They have an altar that they pray at before they dive. Even though it's a tourist thing these guys are still amazing. After the diving exhibition the divers come up to the restaurant to greet the guests as they leave (for donations of course). Up close you could some with scars and most had missing teeth. Tough job!

We found our driver and headed up to Señor Frog's. We were struck by how clean Acapulco looked, at least what we saw of it. We had heard from other's how dirty the city was. We didn't see it. Maybe people are comparing it U.S. cities although we've seen some areas of San Francisco that aren't very inviting.

We got to Señor Frog's and wondered if it was open. There was nobody there and it was lunch time. It's probably much busier at night. Of course this was a Monday too. The food was very good and filling. The drinks were quite good too. It wasn't quite what we were expecting (people doing shots and dancing on tables maybe) but the view was awesome. Oh well, time to head back to the ship, but first we had to take some touristy pictures.


Fort San Diego at the port

The view from the restaurant

The divers climb up the cliff

First diver accepting adulation from the crowd

Splash (well if I caught it you could have seen it)

The divers pray at an altar before diving
LINKS:
Click on the ship to keep cruising
<![if !vml]>
<![endif]>